Sunfish / Lateen Sails

Our standard Sunfish sails at $120.00 are the web's best deal! Check out our newly updated colors.

***We are currently out of stock of Islands and Berumda. All others in house, ready to go!

These popular sails fit a wide variety of lateen rigged boats including: The Sunfish and the original Sailfish, Aquafin, Phantom (now the Pointer 14), Scorpion, Playfish and the Dolphin Sr. 14. (They will also fit the Super Porpoise but be about 10sqft small.)
Current Pricing: $120.00 see below for details and GO TO THE NEIL PRYDE STORE.

Orders received by noon East Coast Standard time normally ship the same day!
Standard shipping UPS Ground, Continental USA Only and Handling is $17.00
Other locations based on location and Delivery Method
Product Overview
Application
These sails are recreational sails and are popular for all the above boats and commonly used by sailing clubs, schools, summer camps as well as sailors world-wide.
**Note that these sails are NOT class approved sails for the International Sunfish Class Association (ISCA)
Size
83.60 sq ft.
Luff: 13.33
Leech: 14.5
Foot: 13.3
Material and Build Specifications
3.8oz Polyester** in colors
The colors shown at right are as close a representation of the actual colors as possible. These may vary depending on your computer, your monitor or your printer. Photo of current colors below**
Stainless Steel attachment eyelets
Optional View Window $25.00 Location, size and material as shown below.
Attachment hoops: $0.80 each (25 per sail)
**Note: Many have asked us about our fabric being polyester and not Dacron. Dacron was a registered trademark of DuPont® for their polyester (PET) yarns used in sailmaking.
DuPont® is no longer in the polyester/sail fiber business.
Just about any woven sailcloth today is made from someone's version of polyester (PET) and there are several suppliers worldwide. Dupont just isn't one of them.
Pricing/Shipping/Return Information:
Standard Shipping and Handling: $17.00
UPS Ground USA only. Other Countries dependant on location and courier.
If for any reason, you are unhappy with the product you can return it for a full refund if sail is unused. Shipping and handling cost nonrefundable.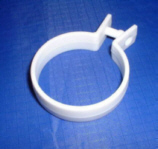 Attachment Hoops for mast/boom
Fits 1.5" tubes
One piece plastic
Easy snap-on assembly
Qty needed: 25 per sail
Unit Price: $.80 each
**Sunfish is the registered trademark of LaserPerformance Ltd. Neil Pryde Sails is NOT an authorized dealer or distributor of Sunfish Sailboats, parts or accessories, or a licensee of LaserPerformance Ltd.
LaserPerformance Ltd neither approves nor authorizes these lateen sails sold by Neil Pryde Sails